Global presents Brand Works in association with Fresh Air, supported by Campaign & PodPod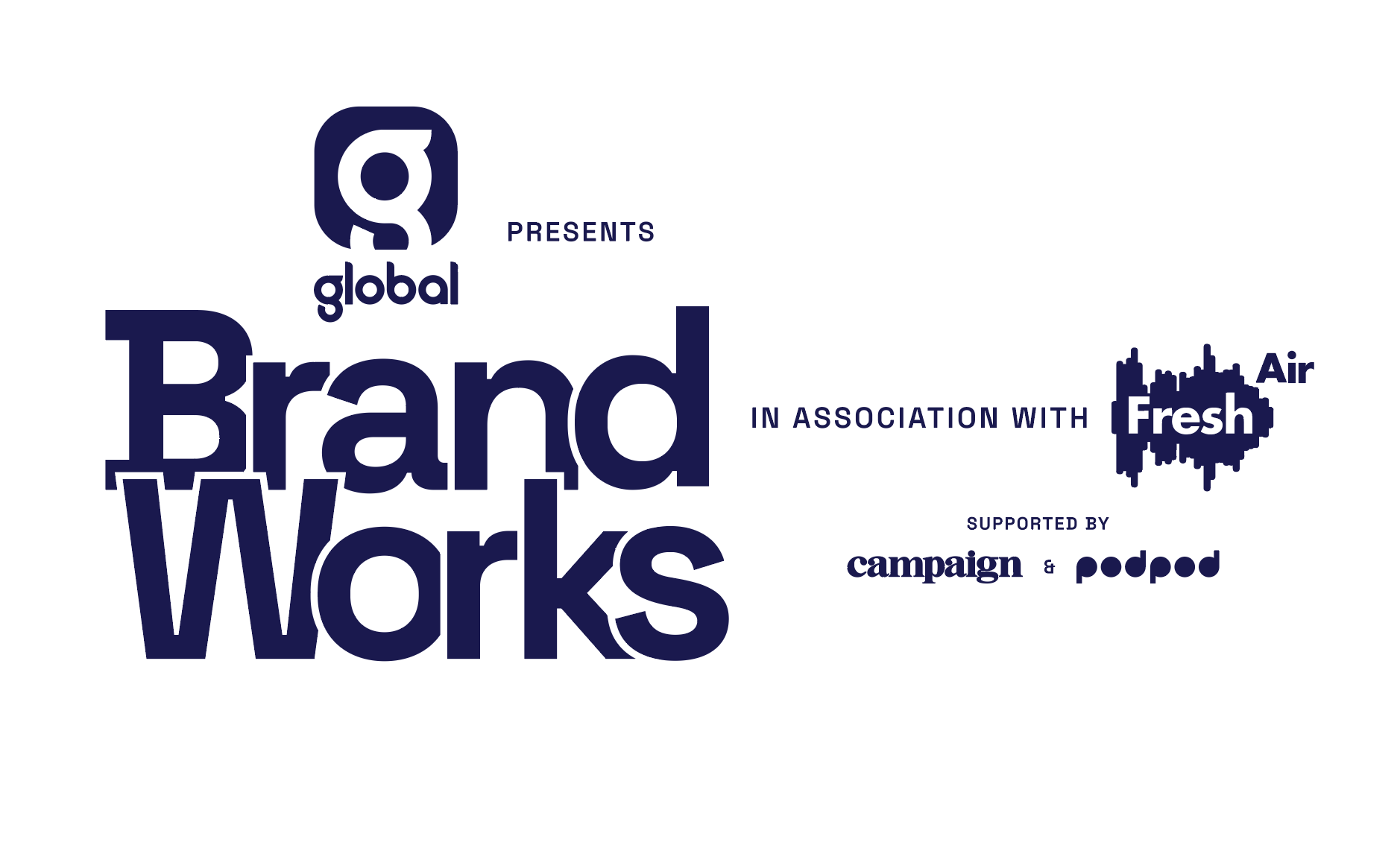 Global presents Brand Works in association with Fresh Air, supported by Campaign & PodPod, and is a centre-piece of The Podcast Show, where brands and advertisers come together with the rest of the podcasting industry.
Listen to talks from brands who have already committed to the podcasting space and those trusted production companies who are creatively driving the content. Plus, inspirational case studies and data driven discussions about this area of huge potential growth for brands.
We're sorry, but we couldn't find any results that match your search criteria. Please try again with different keywords or filters.
Brand Works

Join for a compelling panel discussion as we delve into the dynamic world of programmatic advertising. We will explore its evolution from a "bad reputation" to its current recognition as a must-have for marketers and publishers. Discover why investing in this trending channel is not just wise but imperative for staying ahead in the game. Our seasoned experts will enlighten you on best practices and industry developments that prioritize safety in programmatic advertising. With their vast knowledge and experience, you'll gain insights into how programmatic and other forms of advertising can work together in perfect harmony. In today's competitive landscape, maximizing podcast revenue is crucial. Our engaging conversation will examine how programmatic advertising plays a key role in this endeavor. You won't want to miss out on this discussion that promises to be informative and thought-provoking!

Brand Works

What does audio do that video doesn't? And how can it help to build your brand? Here comes The Science Bit! Join Fresh Air to delve into the neuroscience of podcasting and discover how our brains are wonderfully wired for sound.

Brand Works

Gordon Glenister is the host of Influence the global podcast and the Membership World podcast. In this engaging session Gordon will share with you how you can monetise your podcast from membership to sponsorship. He will share his personal experiences as a guest to over 50 shows and a host and how for one of the podcasts he got sponsorship from 0 followers. Gordons podcast is also part of the Marketing Podcast Network which has over 35 podcasts in the marketing space – is this aggregated way an opportunity for sponsors and hosts to work together.

Brand Works

Everyone with a podcast needs to establish a brand. For companies, this can be especially challenging. Should they create a unique brand identity for their podcast? Or should the show act as an extension of its current brand? In this presentation, the team at Quill takes the audience through common mistakes that companies make when creating their own podcast -- from ideation to execution. They outline how to give your branded podcast its own voice while retaining a strong connection to the company and why building a brand for your podcast is similar to creating a marketing strategy.

Brand Works

PodPod interviews brand and production team behind the award-winning show 'An Idiot's Guide to Saving the World'

Brand Works

Craft and Brewdog share a unique story about the power of co-creation, which led to BrewDog's most successful product launch ever.

Brand Works

Join WMN's Head of Development Emily Rudder in a session that helps us break down how brands can go about the development of an audio strategy. Emily will be joined by a fellow branded podcast producer and brand marketer who have experience building a branded podcast from the ground up. They'll talk through creating an editorial framework, diving into production for the first time, and setting key metrics for success.

Brand Works

For a recent partnership, James O'Brien (Full Disclosure) brought the mental health message to the fore. His show featured long-form ads dedicated to supporting B2B listeners who may be facing poor mental health. Unlike a typical ad in other media, the format enables listeners to let their guard down over time. The result? A connection, not only with an advertiser, but with earnest, honest voices. Mental health is becoming more and more prevalent in today's business marketing landscape. As Britain's business owners become more aware of their mental health, one approach means partnering with podcasts to empower the people behind Britain's small businesses. In this session, James speaks to Global's Head of Podcast Sales, Sarah Ray, for a frank chat about the cut-through podcasts have in business-to-business marketing. Discover: • Why the intimacy of podcasts lends itself to purpose marketing • How a message of mental health is heard in a brand-safe, considerate space • The magnetism of branded segments within the show • How B2B and B2C audiences respond
Brand Works

Join Cameron Hendrix, CEO and co-founder of Magellan AI, as he provides an overview of podcast advertising in the UK, Germany, and Australia in the first months of 2023. Hear the data behind podcast advertising, including which advertisers are appearing most frequently, average ad load, and the number of ads on the podcast episodes that Magellan AI samples from around the world.

Brand Works

In this session, we explore how podcasting can be a mechanism to engage with young people aged 14-25 years old. Youth charity The Duke of Edinburgh's Award enlisted award-winning podcast company Mags Creative to facilitate a truly innovative process through which to create a podcast hand in hand with young people. Taking responses from hundreds of young people and forming them into a successful podcast, this is a case study in engagement, experimentation and innovation. The session will be led by Hannah Russell, Founder of Mags Creative, welcoming Lucy Price, Story Producer at The Duke of Edinburgh's Award, Ryan Nile, Producer at Mags Creative, as well as a young person who has taken part in the show.

Brand Works

How do you build a best-in-class branded podcast? An exclusive preview of one of Fresh Air's most ambitious projects to date. Our new series with Autotrader - Show on the Road - might be fuelled by celebrities, but they're not the only reason this podcast will be put on the map. We'll look under the hood and share what it takes to create a great podcast for a brand.

Brand Works

Adelicious invites you to peer underneath the bonnet of leading podcasts and gain an insight into how they successfully monetise their content by ensuring that quality and listener satisfaction are maintained. Authenticity is undoubtedly king when it comes to achieving this balancing act, but what tips and tricks can you employ to replicate the success achieved by Intelligence Squared, Motherking and Kindling Media? Here's one: Your own brand integrity is your superpower in the commercial world.

Brand Works

There is no one way that a podcast should sound, there is no blueprint, there are no rules (well within reason). The holy grail is to craft a podcast that people love listening to, that also effortlessly emanates everything you stand for and believe in, all without ever sounding like a sales pitch. A Life More Wild, the hit podcast from nature holiday company Canopy & Stars is the perfect example of this. As a brand, they exist to help people re-connect with nature, and this is also exactly what the podcast does. In this session, Alice Cottingham, PR Manager and Emily Enright, Head of PR at Canopy & Stars, and Gareth Evans, founder of branded podcast agency 18Sixty explain how they developed and produce a podcast that 'sounds exactly like their brand', and how it's become an integral part of their whole content marketing strategy - whilst also proving a powerful tool, as a certified B-Corp, to share their values.

Brand Works

Brands and Podcasters are finding more ways to work with each other and Lloyds are one of the leading brands developing long term relationships with podcasters. Lloyds Senior Marketing Lead, Vicky Handley and Lloyds Planning Lead and Keep It Light Media co-founder, Simon Hunter, sit down with podcasters to explain the key to brand and podcast collaboration and what the future of the relationship will look like.

Brand Works

We all know how great podcasts are. But why are podcasts such a huge opportunity for advertisers? Campaign interviews 3 leading advertisers on how podcasts fit into their wider marketing strategy: what works, what fails, and how podcasts have driven advertising strategy and ROI.

Brand Works

With Elizabeth Day and Peloton Advertisers need to be sure that their media spend is accountable and their marketing efforts move the needle. As podcasts become more targeted, more measurable, and more creative, they're becoming the logical next channel in a brand's marketing toolkit. Podcast royalty Elizabeth Day (How to Fail) to discuss the power of brands getting involved in podcasting and going beyond the host-read ad to become part of the fabric of the show. In this case study, you'll hear from a brand using podcasts as a key part of their marketing mix, leaning on the unique relationship between podcaster and listener. Discover: • Advertisers and podcasters working together on brand messaging • Creative marketing concepts that extend beyond a host-read ad • How audiences respond to podcast advertising • Amplification – the Global difference on-air, online and outdoor

Brand Works

Global podcast ad spending is increasing exponentially - what does this mean for brands and their agencies? Join Veritonic's Damian Scragg as he sits down with industry experts to discuss the efficacy and best practices of audio and podcast creative measurement, and the impact that it's having on the growth and future of audio as a highly engaging and powerhouse advertising vehicle.