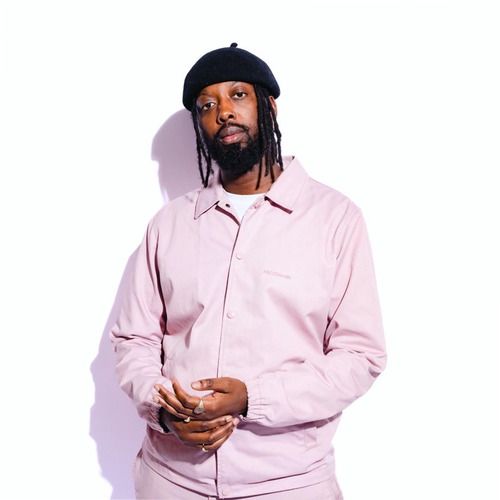 Ibrahim Kamara
Like many young Londoners, entrepreneur Ibrahim Kamara found his entry point into the creative industries via Grime culture. Inspired by his cousin, Maxsta, Ibrahim spent his teenage years aspiring to make it as an MC, travelling from his home in Lewisham to clashes and sets all over the city. However, when he lost all of his recorded music to a broken hard drive, he experienced a rebirth.
"It was so demoralising," he remembers. "For a long time in my head I thought I was going to be a Grime MC. I had that DIY spirit."
He quickly realised that his self-taught skill set, including photography, design, direction and video editing, could be applied to much more than music. Combined with an entrepreneurial attitude - inspired by his father who ran an Internet cafe and money transfer business that he'd worked at since he was young - Ibrahim started to look to role models like J2K and Jamal Edwards who had combined the worlds of music and business to create their own self-made success.
While studying Accounting and Finance at Kent University, he began collaborating with fellow South Londoner, Jide Adetunji, on an ideas think tank which led to the pair co-founding their media platform and creative agency, GUAP, now known as "the home of emerging creatives". Initially conceptualised as a video magazine, Ibrahim put his film-making skills to work, shooting artists that he'd met through his aspiring musician days, while Jide interviewed them.
"Neither myself or Jide are journalists, but we wanted to tell stories," he explains of GUAP's initial iteration. "I had a camera and knew how to edit videos. We felt like young people don't read, they watch. So we wanted to make video articles instead of written ones."
GUAP quickly expanded from video to include digital content, print media, events, studios and a creative agency. As its CEO Ibrahim's main focus is on the strategy behind the ever-growing company. However, not wanting to box himself into a single role and fuelled by his DIY mentality, his hands-on approach leads him to get stuck into everything from negotiating deals to shooting content himself, although you won't catch him referring to himself as a director.
"A lot of the things I can do, I never say I am," he explains, having taught himself skills like photography and web design out of necessity. "I've never aspired to be those things, but because I'm curious I do a lot of research and learn to be sick at it. GUAP allows me to do all of the things I mentioned. I probably would not be able to find a job that allows me to express myself in all of the ways I want to. I want people to look at me knowing that you can do business and be yourself."
Finding the intersection between commercial, content and community, Ibrahim has been able to develop a successful business that is authentic to himself. While he is most comfortable describing himself as an entrepreneur, there is an artistic flair and social responsibility attached to his approach to business. Everything about the company is grounded in purpose, and when he is faced with difficult decisions he is confident in going with gut instinct, knowing that his own set of ethics is inseparable for the business.
Rather than focus solely on the worlds of music and sport like most other publications aimed at young people from his background, Ibrahim wanted to broaden the scope of career opportunities that were visible to Black and under-represented communities.
"Everybody wants to be music and sports stars because that's what's shown," he says. "With GUAP we wanted to put creativity at the forefront, so that other young people can see role models from their area."
Despite his increasing success, Ibrahim's curiosity still draws him to attend small events all over the city and follow rabbit holes through social media feeds in order to learn about what is going on across the spectrum of creativity. A clear statement of intent here came with the G-List, an annual magazine cover rounding up the rising stars that Ibrahim and Jide are excited about. Since 2017 the annual feature has included the likes of rapper Knucks, broadcaster Reece Parkinson and fashion designer Nikolina Tomic to name a few. A clear and unifying image of what GUAP represents, Ibrahim believes that it is important to present multiple disciplines side-by-side in order to remind readers of the limitless range of routes available in developing a sustainable creative career. By supporting emerging talent rather than following those who have already made it, GUAP presents themselves as clear market leaders, and an inspirational platform to the countless others who are at various stages of emergence within their own journey.
"When people are crazy big they don't need magazine covers, that doesn't really do much for them, it does way more for the brand," he explains. "If you support people on the way up, there's an exchange that is invaluable."
The value of GUAP lies in the community that they were building around it, and for Ibrahim it is vital to provide an ecosystem that supports creatives at multiple stages in their career. Crucially, this ensures that a win for GUAP is a win for its community, and vice versa. For example, North West London rapper Knucks collaborated with GUAP on his first ever live show, then in 2017 he appeared on his first magazine cover; the GUAP G-List alongside Kojey Radical and SNE. Last year when he released his acclaimed debut album Alpha Place, which charted at number three independently, he graced the cover of GUAP once again.
"We've supported Knucks at every stage of his career, and then on his latest album we did a cover for that to show the growth in both him and GUAP," explains Ibrahim. "Knucks is a good example of how the ecosystem of GUAP can help someone."
Similarly Ibrahim has played a part in supporting the careers of The Receipts Podcast, youth worker and LGBTQ+ activist Tanya Compas, and fashion entrepreneur Emay Enemokwu of Jehu-cal.
"Someone might not be crazy big to everyone, but they're big to someone," Ibrahim says, of the ethos behind those he looks to support. "I'm attracted to actual talent, not just hype, but you're actually sick at what you do. Momentum, to see that you're starting to bubble a little bit, and leadership, having the support of your subculture or micro-community."
Setting a strong example through his own leadership, Ibrahim has received recognition from a plethora of high profile platforms: he was honoured by the Mayor of London as a "Digital Pioneer" for his contributions to entrepreneurship in digital media, named in the Financial Times' top 100 most influential BAME leaders in the UK tech sector as well as being featured in The Evening Standard, Forbes, Business Insider, Campaign, NME and 1Xtra.
He has delivered a TedX talk on 'How to Take Control of Your Life', was invited by META to speak to the country's leading advertisers on Creativity at Soho Farmhouse and partnered with TikTok to deliver their 'been doing it' campaign for Black History Month. Alongside his team at GUAP, Ibrahim has worked with many of the world's top brands including Nike, Instagram, TikTok, Coca Cola, Kurt Geiger, Apple, Adidas, Reebok and Converse.
In 2022 GUAP partnered with Instagram for their first inaugural GUAP Gala at the National History Museum. The event - an experiential awards show and gala - had the aim of celebrating creatives who's social impact is overlooked by traditional awards shows. Taking place during Black History Month, the 'Fairy Tale & Folklore' themed evening highlighted the work of some of the UK's most integral creators including Henrie Kwushue, Munya Chawawa, Toni Blaze, Kai Isaiah Jamal and many more, as well as paying tribute to Jamal Edwards. The event encapsulated and brought to life the ethos and purpose that Ibrahim and the GUAP team have been working towards from the beginning, providing a full circle moment.
"It was literally what we do with the magazine in the real world," Ibrahim reflects. "It was crazy to see the community that we've been building together in that venue."
As GUAP heads into its next chapter, Ibrahim is extending his sights far beyond the UK. As the brand continues to promote those emerging at home, he and Jide intend to develop initiatives and projects that will similarly uplift under-represented communities across the world.
"We want GUAP to mean something to creatives on a global scale," he says. "We want there to be areas around the world where GUAP means the same thing to creatives as it does here."
Outside of GUAP, Ibrahim has plans to return to music-making, and wants to continue inspiring others to engage in self development with his motivational content series #IKTALKS. Available via his Instagram, the series has been running for the past 5 years and sees him sharing aspects of his own journey direct-to-camera, discussing topics around creativity, entrepreneurialism and mental wellbeing.
"Our journey has been documented from the start," he explains. "Showing that you can come from ends and do something, that's what I'm most proud of. You can do this if you put your mind to it."
Ibrahim believes that by sharing his own lived experience, he can make the world of creative entrepreneurship less opaque and more accessible to others. He hopes that his own legacy will encourage others to explore their curiosity without allowing themselves to be limited by the perception of others, "I want to be remembered as someone who opened doors for a generation, but also someone who did what they wanted to do unapologetically," he says. "I allowed all of my creative endeavours to come to life."