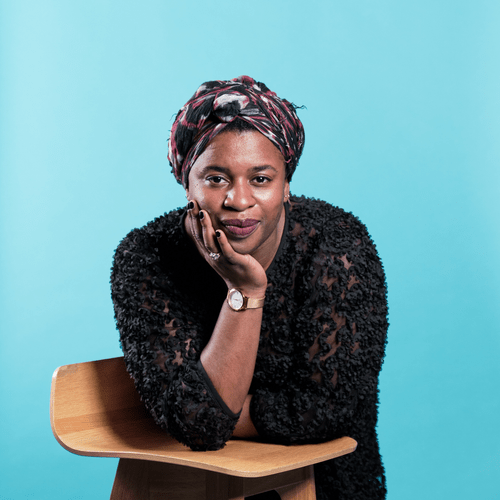 JN Benjamin
Writer and creative JN Benjamin is 'absolutely obsessed' with photographs. It's an interest she indulges with a neat collection of vintage analogue cameras and a makeshift film processing lab in her home bathroom in south London. But her obsession recently gained an unexpected focus when she discovered a box of old photos that gave a fascinating glimpse into her mother's life in Nigeria before she moved to England. This was a world about which JN knew absolutely nothing – the woman in the photos was barely recognisable from the woman she knows. It got her thinking: what was her mother's life like before she became a mother?
JN's podcast our mothers' stories brings together mothers, their daughters, and some old printed photographs to explore this tantalising question. Though photos are a focal point, she was always sure that audio would be the perfect medium for this project. The main aim of the podcast is to encapsulate the essence of a personality – things like accent and dialect, the rhythm and cadence of speech, and the sound of laughter, for example, are all a huge part of that. Listening to her own mother tell stories about her youth and pre-motherhood experiences gave JN a deeper understanding of her own legacy and revealed to her the concerted effort it would take to truthfully and authentically preserve it for future generations.
It really struck JN to learn that many of the places her mother spoke about no longer exist, and how common that is for countries in Africa and the Caribbean because of the ongoing devastation of colonialism, climate change, and now COVID-19. This context serves as a reminder of the urgency to capture these stories - in the words of those who lived them - before it's too late.
JN Benjamin, Audio Lab creator, says: We're in a moment right now that for so many reasons feels thick with a profound sense of grief. Death and loss are no doubt inevitable but I think the way it is happening right now has unveiled a collective sense of urgency to hear and preserve the stories of those who came before us. For the children and grandchildren of the African and Caribbean diaspora - including me - whose parents may have been born abroad this task feels even more important. I want this project to be a provocation; a little nudge to encourage more people to seek out and preserve, in some way, their own mothers' stories.