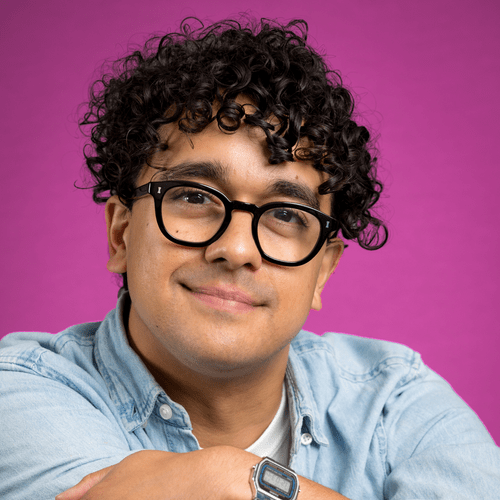 Josh Weller
Comedian/Author/Broadcaster/Podcaster
Recently hand picked by Fred Armisen to be his opener, Josh Weller is a failed musician turned comedian, comic book author and podcast host. He was born in England, raised in Malaysia and now lives in London.
As seen in this season's ITV2 Stand Up Sketch Show, Weller's high energy brand of cleverly self-deprecating stand-up landed him on pro bills after just one year on the circuit. In addition to his live comedy work, Josh has developed a loyal fanbase for his viral musical videos and online content, with views in the millions which includes mockumentaries, sketches, professional trolling, animated stand-up comedy shorts, character work, and more. His 2020 mockumentary 'The U2 Taken Paradox' has had over a million views and angered legions of loyal U2 fans.
He currently writes on Spitting Image and has written for The Now Show and Radio 4's Peer Group, and the jokes on McFly's guitar plectrums on their 2022 arena tour.
His dark comedy graphic novel 'Die Already' was published by CollegeHumor in 2019. In 2020, he was included in Twitter's Valentine's and Valentine's Campaign, featured globally on billboards.
Josh is also a successful broadcaster and presenter, his Dirty Air Formula 1 podcast with Alfie Brown is fast becoming a success, having hosted and produced the popular Excitable Boy podcast (#6 on the iTunes Comedy chart, #13 on the worldwide iTunes chart), as well as the official Hard Rock Café podcast and the Vans Warped Tour podcast. Prior to comedy Weller was signed with Universal Records as a teenager, (you're not still reading this, just give him the spot, he wrote this dumb bio himself) he went on to tour the world as both a solo artist and the lead singer of popular punk act The Kenneths. He has performed on the Vans Warped Tour and toured with The Offspring, The Descendents, Anti-Flag and Juliette Lewis, has drummed for Ray Davies at the Royal Variety Performance, released a Christmas single with Paloma Faith and has toured with Mumford & Sons, The Maccabees, and more. Black Flag's Bill Stevenson produced his records.
Josh Weller currently has a Scroobius Pip tribute & impersonation act that is available for bookings at funerals, sheep herding contests and ritualistic circumcisions. He performs Pip's one song over and over again while crying into a bowl of tapioca pudding. It has not been well received.