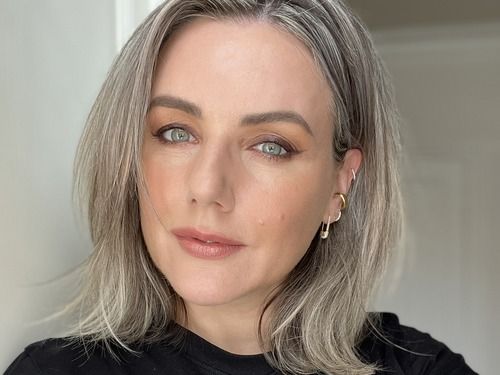 Sali Hughes
Journalist, Presenter, Broadcaster & Host
,
Beyond The Bathroom
Sali Hughes is a journalist, presenter and broadcaster, specialising in beauty. A former magazine editor, she has written extensively for Vogue, Elle, Grazia, The Telegraph, The Observer, Red, Stylist, Marie Claire, Cosmopolitan, Glamour, Shortlist, Radio Times, Woman & Home, Good Housekeeping and Net-a-Porter, and was popular resident columnist on The Pool and Empire magazine (both of which have seen her twice-nominated for Columnist of The Year). She has been Beauty Editor on The Guardian since 2011, where she is known for her intelligent, straight-talking advice and honest product recommendations that are recognised across the beauty industry as having "the Delia effect" on sales.
Sali is a very experienced radio broadcaster, appearing frequently on BBC Radio 4's Woman's Hour (for whom she has also presented three in-programme series), Late Night Woman's Hour, You & Yours, and The Today Programme. Since 2015, Sali has also presented her own show on Soho Radio. She has made many guest television appearances on Sky News, BBC2's Newsnight, ITV's This Morning, Good Morning Britain and Lorraine. She has written and presented her own factual reports on homelessness for BBC One Wales, Trolling for BBC Radio 4 and appeared as beauty expert on a number of consumer shows, including BBC One's The Truth About Beauty and BBC2's What to Buy and Why. Her own popular YouTube series of "In The Bathroom…" interviews has won three industry awards.
Sali launched the hugely successful first season podcast of 'Beyond The Bathroom' in 2022, having had her first taste of podcasting in 2019 during which she curated and presented a landmark podcast series for Avon Cosmetics – 'The Beauty Podcast', becoming a Webby Awards Honoree for Best Podcast Host and quickly amassing one million listener minutes. The podcast debuted at number 1 in the UK iTunes charts.
Sali has presented a number of TV industry events for the BBC, Channel 4 and BAFTA, chaired countless discussion panels for high profile brands, organisations and at all major UK literary festivals. In 2016, she accepted a prestigious invitation to address The Oxford Union, arguing that beauty, feminism and substance are not mutually exclusive; and in 2018, chaired a parliamentary summit on poverty in Westminster. This followed her co-founding Beauty Banks, a nationwide charity providing essential toiletries to people living in poverty, for which she and co-founder Jo Jones have won several major awards, including The Big Issue's Changemakers 2019 and 2021, You Magazine's Most Extraordinary Women of 2021 and have also received a nomination for the lifetime achievement award at the 2020 Vogue Beauty Awards.
Sali has written four bestselling books; Everything Is Washable (2022), Our Rainbow Queen (2019), Pretty Iconic: A Personal Look at The Beauty Products That Changed The World (2016) and Pretty Honest: The Straight-Talking Beauty Companion (2014).
In early 2022, Sali became a beauty brand founder with her multi-award winning skincare range launching exclusively with Revolution Beauty and Superdrug.